Daughter
Daughter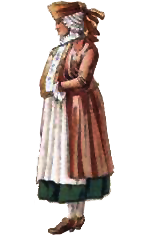 Comments

Не имела детей и была по указанию своего отца разведена от мужа. Дальнейшая её судьба неизвестна.
Family tree
(17201720 Gregorian
1719 Julian
5480 Hebrew, Selec, Brestskoe Voevodstvo - 17971797 Gregorian
1796 Julian
5557 Hebrew, Vilno)

(17241724 Gregorian
1723 Julian
5484 Hebrew, Kejdany - 17821782 Gregorian
1781 Julian
5542 Hebrew, Vilno)

This information was published by the user
Benjamen Kretz
. The administration of the site is not responsible for the content of this information. If you have any questions, please
contact author
. In cases of dispute, please
contact us
.